About the Great Spruce Head Island Art Week
The rich history of the Great Spruce Head Island Art Week started in 1993. Each summer since, 12 artists have come to Great Spruce Head Island to work independently and share their love of the artistic process. The artists participating in this activity are painters, writers, sculptors, and photographers—some are new, while others are repeaters.
This large private island provides a nurturing environment for individuals with a broad range of creative expressions. In the silence and simplicity of island life, creativity flourishes.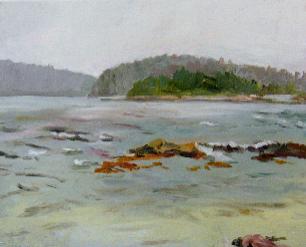 Preserving a Great Environment for Artists
Chicago architect James Porter purchased Great Spruce Head Island in Penobscot Bay in 1912. He built a 12-bedroom "summer cottage" for his family of five children who spent summers there throughout their lives. Only little has changed—They still use a wood-burning stove for cooking their food, and now solar energy provides electricity.
Island living influenced the Porter family, fostering their passion for nature. It shaped the lives of his children, including Nancy, photographer Eliot, painter Fairfield, and teacher John Porter.
The Porter family's tradition has been maintained for generations, so the peaceful, artist-friendly environment of Great Spruce Head Island was preserved. For decades, it has continued to provide a haven for many artists, including the ones who participate in Art Week. We hold this annual event every June or July.
Contact us to learn more about the Great Spruce Head Island Art Week. We are delighted to offer artists access to this amazing environment.
Expectations for Art Week
The Great Spruce Head Island Art Week is an opportunity to freely bring out your artistic ideas since this event is not a structured workshop and has no instructions. In addition, the participants enjoy the following:
Three Special Meals a Day
Single and Double Bedrooms
Workspace on One of Five Porches
Opportunities for physical exercise: miles of hiking trails, boating, and tennis
You can reach Great Spruce Head Island through the inter-island mailboat that makes daily trips from Sylvester's Cove on Deer Isle. You can also travel by air through Bangor Airport and then take a taxi. Parking is available near the departure dock.
Join the Great Spruce Head Island Art Week
You can send your letter of intent to join Art Week anytime during the year. However, we encourage you to send your application as early as possible because there's always a waitlist of applicants. This is especially true for participants applying for funding.
Please include the following information in your application:
1. A written statement of your art experience and any relevant links to your art.
2. A letter about what you would like to accomplish in joining Art Week.
Costs for Joining Art Week
The total cost for joining our event is $1,200. A $400 deposit will be due upon acceptance.
Don't hesitate to get in touch with us to learn more about the Great Spruce Head Island Art Week. To apply for funding, please contact:
Anina P. Fuller
149 Kearney Ave
Sonoma, CA 95476
Additionally, schools and colleges may cover a student's or faculty member's expenses to join Art Week. Noble and Greenough School in Dedham, MA, has successfully done this.
Sponsor An Artist
Donate to the art scholarship fund to support artists in need. Past participants and friends have made is possible over many of years. Donate now through PayPal.
Donate Now
Art Week Honorariums:
"The Porter Brothers Honorarium" - A Grant Given by the Anne Porter Estate
"The George R. Bunker Honorarium" - Awarded to a Student from the University of the Arts in Philadelphia
"Maria Melone Scholarship Fund"